Area Attractions & Tours
With an on-site Tour and Information Desk, booking tours and getting around the island will be a breeze! Just let us know what type of activities you enjoy. We can take care of everything for you in advance so you can relax and truly enjoy your stay.

Featured Tour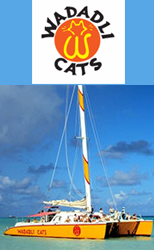 Offering 4 super sailing tours around the waters of Antigua: Circumnavigation, Cades Reef, Bird Island and Kayak Eco Tour, Private Charters. Sail off to a deserted, tropical island. Feel the sun on your skin and the wind in your hair as we sail the Caribbean Sea towards aboard Wadadli Cats Catamaran. Enjoy snorkeling in turquoise waters and an alfresco lunch. A must do during your vacation to Antigua. See the island from a new perspective... at sea! Your friendly Captain and Crew will share a bit of history, facts and folklore as you sail with us!
More About Antigua...
The Island has seasonal times for different events. Cricket Season is usually end of February to March. Sailing Week is usually end of April, first week of May. Carnival is end of July, first week in August. Mango Festival is May/June. Deep Sea Fishing Tournament is in September. Classic Yacht show is mid December. Antigua is a very sunny and breezy so wearing a hat and use a high factor sun cream is beneficial in avoiding sunburns/sunstrokes.

A Fully Functional Tour Desk and Information Centre is on site that's caters to all needs. Tours and Excursions can be arranged on arrival. Please contact us for details.